Alumni-Owned Business: Glenda Bradshaw & Clyde Coffee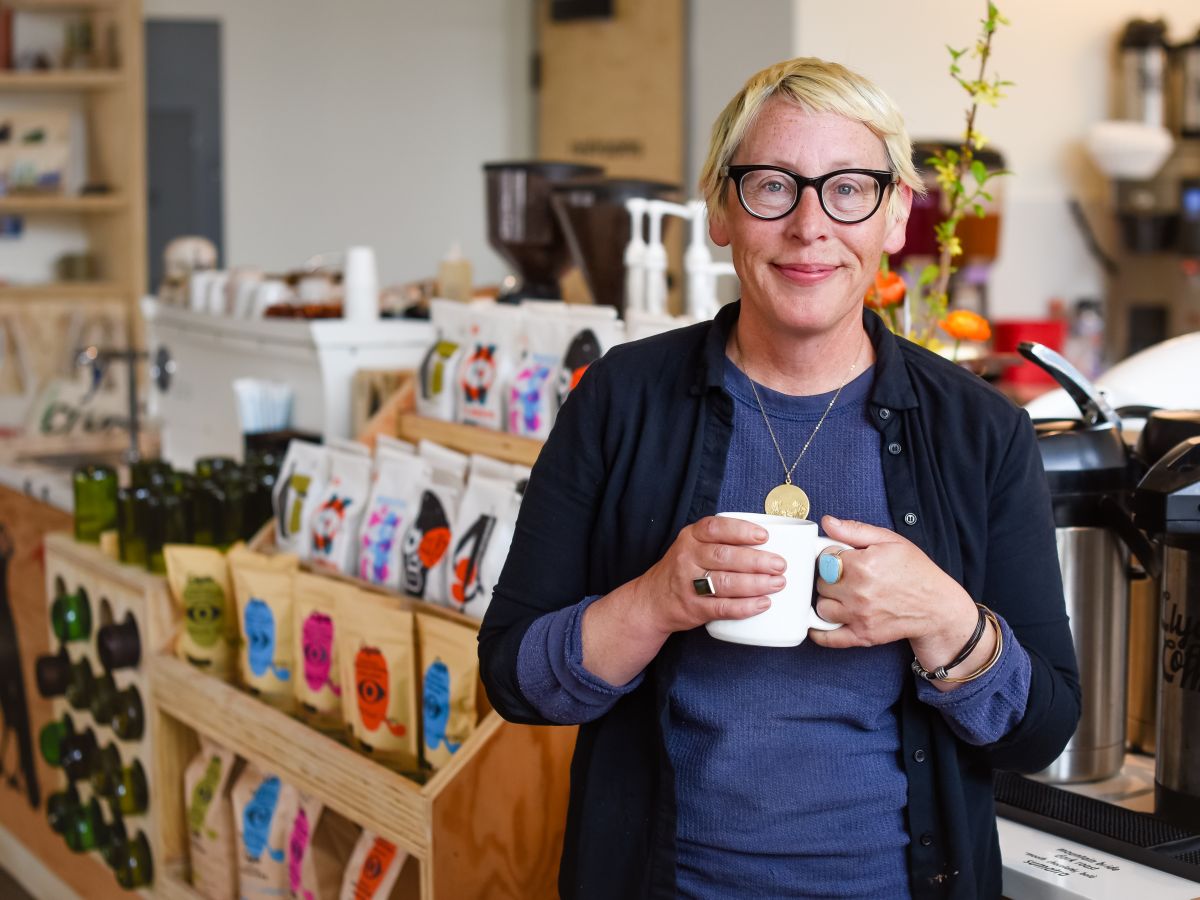 University of Montana alum and Montana native Glenda Bradshaw may be a number cruncher at heart, but walking into Missoula's Clyde Coffee, you can't deny her instinct for running a small business. The coffee shop is a bright and welcoming space, with flashes of color and a wall of stylish, shoppable merchandise. People sip coffee or tea from handmade ceramic mugs while working on laptops or chatting with friends.
Bradshaw developed the business plan for Clyde Coffee during her second stint as an undergraduate student. She first came to UM in the late 1980s after graduating high school. She left school before graduating and began a career with FedEx Kinko's, eventually managing retail operations for a large portion of the western U.S. 
After nearly 20 years with the company, she decided it was time to shift priorities, and made the move back to Montana to finish her degree and start a family.
"I understood without finishing my degree, doors were just closed to me," said Bradshaw. In a strategic venture management class, students were tasked with creating a viable business plan. "I thought, well I could run a coffee shop. I love coffee, I like hospitality and retail. There were lots of good coffee shops in Missoula, but I felt like I had something to say on the subject."
Bradshaw opened the original shop on Missoula's Hip Strip in 2015, quickly turning it into a popular spot not only to grab a coffee but also to meet friends, study or work.
With a bachelor's degree in accounting under her belt, Bradshaw was recruited to manage Republic Services in Montana – a position she held until 2019. During that time, she kept growing Clyde Coffee, and by 2021, moved into a new space that offered more square footage, a full kitchen and roasting space. Bradshaw sees Clyde as a community gathering space, and it's obvious the community feels the same way. In a town with lots of coffee options, Clyde has become a local favorite.
Looking back on her time at UM, Bradshaw says her biggest takeaways are the great environment of the business school, and the advice she received as a student. "The business school's advising was so good. Every class was like: this is how you do it. You just wanted to be there and they made it really easy to be there," said Bradshaw.
For anyone who may be considering starting their own small business, Bradshaw said start with the numbers: "Do all of your research, take your time, vet it. Make sure if you're not an accountant that you work with somebody to put together income statements and statements of cash flow. You have to know when your cash is coming in and going out so you can plan accordingly."
Are you an alum who started your own business? We want to connect with you! UMAA is working on more alumni-owned business features, gift guides, and ways for businesses to show off their Griz spirit. Submit your business here.